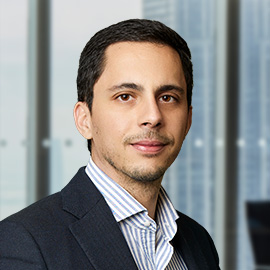 Samy Biyadi, Head of Power
Samy serves as Head of Power at Cipher Mining where he oversees the sourcing, negotiation and portfolio management of power procurement agreements and relationships.
Prior to joining Cipher Mining, Samy was part of the Bitfury Group where he helped secure several hundreds of megawatts dedicated to bitcoin mining while actively managing Bitfury's power contracts and counterparties.
Before Bitfury, Samy spent several years with both renewable and traditional energy firms in Europe and in the US. Samy worked for the corporate venture capital arm of Total S.A, as well as in the mergers and acquisitions department of SunPower Inc., where he led several investments in the areas of smart-grids, energy storage, distributed energy resources and mobility. He has held several board member positions at software startups such as AutoGrid, Cosmo Tech and Sunverge.
Aside from its experiences in the energy field, Samy has been active in the cryptocurrency and blockchain space since 2014 and participated in several successful ICOs, including Hypernet Inc., an early-stage company active in the field of decentralized computing, where he successfully completed a $10 million private token offering.